Current Software
Password Corral
v4.0.6
StatBar Console
v1.1.5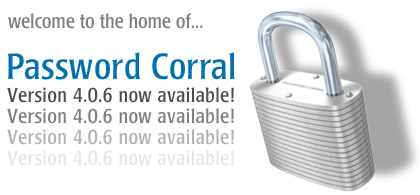 What's New
[2022-02-05] Password Corral No Longer Under Development

Despite my best intentions, I've final come to realize there will not be a Password Corral 5.0. I simply don't have the time any longer to develop the program, and I'm sorry to all the users out there who have had their hopes up for all the years of waiting.

That said, I still use Password Corral every day, and will continue to provide e-mail support for the program as long as there's interest and as long as its old bones still run on the latest versions of Windows.

Thank you to everyone who has used the program over the 25+ years it's been out there, and especially to those who have made a donation in the past.
[2015-01-04] Password Corral 4.0.6 Now Available

Happy New Year all. There's a new release of Password Corral available. No, unfortunately it's not the nebulous version 5. I needed to do a custom build of the program, so while I was there, I added a couple small changes and bug fixes. Head on over to the Downloads section to get the new release.