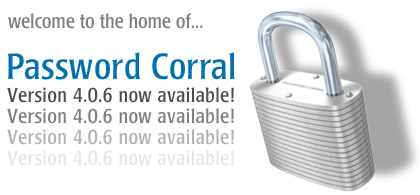 What's New
[2015-01-04] Password Corral 4.0.6 Now Available

Happy New Year all. There's a new release of Password Corral available. No, unfortunately it's not the nebulous version 5. I needed to do a custom build of the program, so while I was there, I added a couple small changes and bug fixes. Head on over to the Downloads section to get the new release.
[2013-03-04] Video Review of Password Corral

FindMySoft has given Password Corral a 5 star rating, and even gone so far as putting together a nice video demo of it. Click here to shoot on over to their site and check it out.
[2010-07-30] Yes, Password Corral 5.0 Really Isn't Vaporware!

No, it's not done yet and unfortunately there's still plenty of development to go. But I've got some news and very early screenshots to whet your appitite. [Learn More]
[2010-01-31] Password Corral v4.0.4 Maintenance Release Now Available!

One small new feature in this build. You can now create a plain text CSV file export in Password Corral 4.0.4. This should be a boon for users that are moving to a new platform or would like to try out a different password management program. Note that you cannot import a CSV file back into Password Corral; you still need to create an encrypted backup file if you wish to import it.